Posts Tagged 'Resources for Children With Special Needs NYC'
Every time I think of the cornucopia of special needs fairs coming up over the next few months I want to do a little dance (if you don't get the Elvis reference above, that's okay). I recently sent an apologetic email in which I confused the Family and Professional Resources Fair with the Special Needs Camp Fair, which read: Only in NYC are there enough special needs fairs to get them confused – amazing!
And amazing is the perfect word to describe not one, not two but all three fairs coming up this Fall/Winter. I plan to attend all of them, even if I have to drag all 3 of my kids along (though I'm really hoping this is not the case) and hope to see you there as well!
SPECIAL NEEDS SCHOOL FAIR, OCTOBER 25, 2011, 5:30-7:30PM
http://www.jccmanhattan.org or 646-505-5708 for more info
The JCC in Manhattan and YAI/NYL/LIFESTART partner to present the annual Special Needs School Fair. Representatives from preschools, elementary, middle, and high schools serving the New York City special needs community will be onsite to provide information and answers to your questions. School materials will be available.
Schools that have confirmed their attendance as of October 6th include:
Aaron Academy — The Aaron School — ABC/Merricat Castle School — Auditory/Oral School of NY StriVright — Birch Family Services — Brooklyn Autism Center Academy — Central Park Early Learning Center — Child Development Center, JBFCS — Clarke School for Hearing and Speech/New York — Cooke Center School — NYC Department of Education ASD Program — East River Child Development Center — The ELIJA School — The Gillen Brewer School — The Hallen School — The Ideal School — Imagine Academy for Children with Autism – The Lang School — LearningSpring School – Manhattan Children's Center – Maplebrook School — Mary McDowell Friends School — Mill Neck Manor School for the Deaf — The Opportunity Charter School — The Parkside School – QSAC — The Quad Manhattan Preschool Program — Rebecca School — Riverdale Nursery School and Family Center – The Shield Institute — Standing Tall — St. Joseph's School for the Deaf — Stephen Gaynor School — United Cerebral Palsy of NYC (Queens and Manhattan Sites)– West End Day School – Windward School Lower School — The Winston Preparatory School — YAI/NYL William O'Connor Bay Ridge School — YAI/NYL The Gramercy School — YAI/NYL Harry H. Gordon — YAI/NYL Manhattan Star Academy — YAI/NYL Roosevelt Children's Center
FAMILY AND PROFESSIONAL RESOURCE FAIR, DECEMBER 1, 2011, 10:00-2:00PM
Church of St. Paul the Apostle, 405 West 59th St. at 9th Avenue
For parents, family members, People with developmental Disabilities, and professionals
Invaluable workshops
Info on services and supports from Over 90 service providers
Caregiver Extras
School Groups Must Preregister
FREE ADMISSION
SPECIAL CAMP FAIR 2012
Sat, 01/28/2012 – 11:00am – 3:00pm
Summer Programs for Children with Disabilities
FREE ADMISSION
Church of St. Paul the Apostle
(Entrance to Fair on Columbus Avenue near West 60th Street)
Sign Language provided
• Meet the camp directors
• Get a free copy Camps 2011-12
For more information call:
Resources for Children with Special Needs, Inc.
Hilda Melendez
212-677-4650 ext. 34
Categories:

Community, Education, Events, Recommendations, Resources, Services
Family and Professional Resource fair 2011, JCc Manhattan special needs fair, Resources for Children With Special Needs NYC, Special needs Camp Fair 2012 NYC, special needs fair NYC, Special Needs School Fair NYC, The Foorce, yai
Start the fall off right. Space is limited, register today!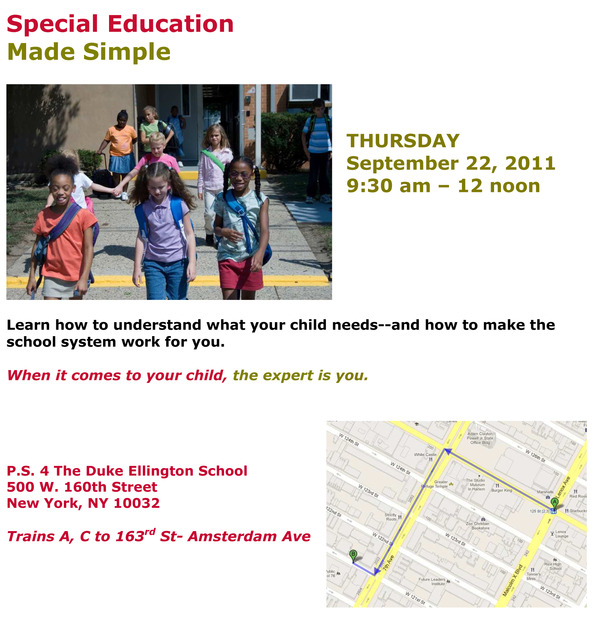 Registration recommended: Register online at http://www.resourcesnyc.org/trainings
Register by phone:Resources for Children with Special Needs: 212-677-4650